Ergophone S 500 Service
The "Ergophone S 500 Service" offers intelligent
technology that convinces in its simplicity. Besides the excellent voice and audio quality and the consistently ergonomics, the phone provides a phonebook, 7 speed dialling keys, a blue service-key and 10 memories for abbreviated dialling. The phone is designed for connection to analog ports of PBXs. Normally it do not need batteries or a power adapter.
Ergonomics
Compact, thin and modern in design, uncompromising ergonomic to use: The phone combines intelligent technology with simple operation. The phone is designed to take into account the physical, sensitive and intellectual capabilities of people more than the average phone.
Quick configuration
The configuration of the phone can be done via phone menu or web browser. Using SD card, the settings can be transferred to other phones.
Quality "Made in Germany"
The phone is designed and developed in Germany. Also the production takes place in Germany.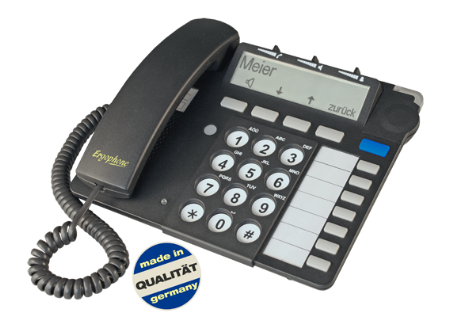 Connection conditions
The phone is suitable for connection to analog ports of telephone systems. It can be operated without AC adapter, if the PBX provide 5 mA in sleep mode without recognize the state "off hook". If the recognition of the busy state of the system is set sensitive, the operation is only possible with the original AC adapter (accessories).
The "Ergophone S 500 Service" can be connected to a port of the telephone system as the main phone. Only in special cases another phone can be operated in parallel.